One of my favorite things to eat (at least lately) is yogurt and granola.  I told my first period the other day that it's "my jam."  I've eaten yogurt all my life, and though I can't get my husband to understand the deliciousness of this "active culture" treat, I still enjoy it almost daily as a part of my balanced school lunch.  Though, no fruit chunks—or help me!—fruit on the bottom nightmares, please.  I like my lactose smoooth….
So, last week at Publix I was on the prowl for some granola to sprinkle atop my yogurty goodness.  I carted (ha! literally!) around a box of some sort of organic cereal for a bit before seeing a display for another granola that was buy one get one free.  I compared calories, etc and made the trade.
The cereal?
Sounds good, right?  The box even has two outdoorsy types mountain biking on the front.  Their website says Trail Mix Crunch: begin your adventure.
Nice.
But no—NOT nice.  After a couple of days of eating my yogurt and "granola" concoction, I realized I'd been duped.  The crunchy clusters didn't look like regular oat and honey and stuff…like this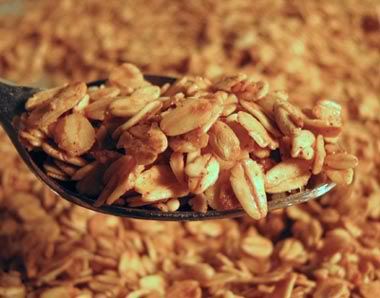 but looked like bits of raisins, a few slivers of almonds…and (horror of horrors) Grape Nuts.  Now I would never put Grape Nuts (what a name!  ew!) in the same category as granola.  When cereal inventors make up names for new cerealy concoctions, the names should be relative to the ingredients.  Like Corn Flakes or Honey Bunches of Oats.  (Life being the exception.  They'd hired some existential dude by mistake—the cereal's deliciousness makes up for this).  But what the heck is a grape nut?  I don't even want to know, let alone eat it.  It's like they just gave up.
Then to make matters worse, they trick granola buyers like me. After a bit of research, I found this picture, which shows how low Post is willing to go:
See the progression of packaging?  The one in the middle is the original.  I'm sure nobody bought it becuase of the giant grape -nuts at the top.  Then, the box to the right.  Nope, not decieving enough.  So then…ha ha!  The one on the left wins out.  Totally divorce the terms "grape" and "nuts" from the box!
I'm eating Grape Nuts.  And I'm angry.